Since its invention in the 1980's, the Bramble cocktail has become a modern classic. It has garnered fans worldwide and, although is ranks high among the lists of the great summer cocktails, it can be made any time of the year!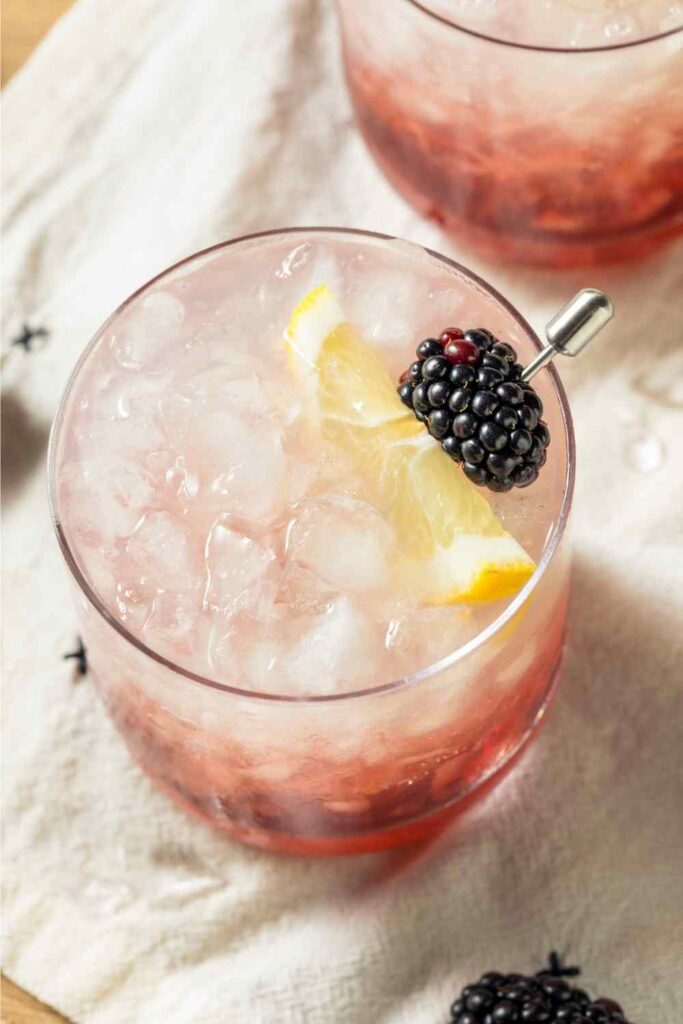 Thank goodness for the legend that was London bartender Dick Bradsell! From his home at Fred's Club in London's Soho district, Dick conjured up childhood memories of picking fresh blackberries on the Isle of Wight. He tells tales that as a youngster, he would be scrambling through the wilds of the island hunting for the elusive bramble bush to find those gems of flavor!
1980s London never had it so good, not only did Dick invent the Bramble in that decade, but he was also the creator of the drink on everyone's list, the Espresso Martini.
What goes into a Bramble
The Bramble recipe is basically the same as a Gin Sour with a drizzle of Crème de Mûre, French blackberry liqueur. It is a rich, sweet and citrusy drink with a complex flavor. The fruity flavors of the fresh berries shines through and elevates this simple gin cocktail.
Only these four ingredients are needed to make the Bramble cocktail recipe:
Gin: This distilled juniper-forward spirit adds an herbal flavor with hints of spice and citrus. London Dry Gin is great choice for the base spirit.
Simple syrup: Simple syrup is a mixture of sugar and water. It adds sweetness to the sour tones of the blackberry. You can easily make it at home and store it for everyday use.
Crème de Mure: The main highlight of Bramble is Crème de Mure. As the name indicates, it is a French liqueur and is made from fresh blackberries. It does not just add flavor to this drink, but the color makes Bramble stand out.
Fresh Lemon juice: Freshly squeezed lemon juice is a must. It adds freshness and a citrusy note to the drink.
Garnish: A lemon slice or lemon twist and fresh blackberries
What tools you need to make a Bramble
You'll need a cocktail shaker for this one, or a mason jar or any lidded jar. Grab a jigger, a barspoon, a strainer, a fine mesh strainer, and a rocks glass for this Bramble recipe.
Follow these simple steps to make Bramble:
Step 1: First, if it's possible, crush some ice and place it in the rocks glass. You can use ice cubes if you need to!
Step 2: Add the gin, simple syrup, lemon juice, cocktail shaker.
Step 3: Add ice and shake, shake, shake!
Step 4: Strain the drink using a fine mesh and pour it over the crushed ice in the glass.
Step 5: Slowly pour Crème de Mûre over the crushed ice. You can see it will head down to the bottom of the glass, creating a beautiful contrast.
Step 5: Top of with a little more crushed ice and then garnish with a slice of lemon and fresh blackberries. Bottoms up!
Can you substitute crème de mure?
Although you can find Crème de Mûre in pretty much any liquor store or online, if you can't, here are a few substitutes that work well with this drink. You can use blackberry brandy which is very close to the Crème de Mûre in terms of color and flavor. You can also use Chambord, a black raspberry liqueur but works just fine for Bramble.
🍸Top Tip(le): Variations or Additions to the Bramble

If you love lime, you can add even more sharpness to the cocktail by adding a few ml or teaspoons of fresh lime juice.
Brockmans Gin is famous for being made with blackberries and it can add even more blackberry goodness to the cocktail, so swap out your unflavored gin!
If it's too sweet, you always have less sugar syrup!
Garnish with a star anise to add a bit more spice to it!
Where to find more gin recipes
Here are a few of my favorites:
Plus more "creme de" cocktail recipes here
Disclaimer: Some of these posts contain affiliate links and as an Amazon Associate, I earn from qualifying purchases. That means that I may receive compensation if you click on these links and buy something, but, don't worry, it won't cost you a dime!
Where to find ingredients for Bramble cocktails
You can find all the ingredients at Spirits Kiosk (10% off the entire site by quoting this code: ALushLife10SK.) in the UK; or Drizly (Get $5 Off Your Order of $20+ using code ALUSHLIFE5) in the USA!
Here is the recipe!
Ingredients
2 ounces gin
1/2 ounce creme de mure
1 ounce freshly squeezed lemon juice
2 teaspoons simple syrup
Garnish: lemon half-wheel & blackberry
Instructions
Add the gin, lemon juice and simple syrup to a shaker
Add ice
Shake, shake, shake
Fine-strain into a rocks glass
Slowly pour the creme de mure over the top of the drink
Garnish with a lemon half-wheel and a fresh blackberry
Nutrition Information:
Yield:
1
Serving Size:
1
Amount Per Serving:
Calories:

184
Total Fat:

0g
Saturated Fat:

0g
Trans Fat:

0g
Unsaturated Fat:

0g
Cholesterol:

0mg
Sodium:

10mg
Carbohydrates:

16g
Fiber:

3g
Sugar:

9g
Protein:

1g
The information shown is an estimate provided by an online nutrition calculator. It should not be considered a substitute for a professional nutritionist's advice.
Pin it for later
Love this recipe?
Follow me on Pinterest for loads of great recipes and much more!! Just click the little red pin button at the top of the recipe card!