The Strawberry Daiquiri is so gorgeous and so easy. Either frozen or not, it's takes only minutes to make and is perfect for the summer!
Although you probably drink them in a bathing suit, on the beach, frozen and in a big gulp cup, Daiquiri making is the true test of any bartender. The rumor is that you can tell a bartender's prowess by the way in which she makes a Daiquiri. Saying that, a daiquiri is so simple to make at home!
What goes into a Strawberry Daiquiri?
Fresh ingredients are so important – so please, please, please use fresh lime juice and strawberries! I love this lemon squeezer which can be used with limes as well! It has holes on the bottom that fit right over the jigger, making it super easy to get the perfect amount of lime.
White Rum: The main ingredient used for this classic cocktail is white rum. Also known as light rum, white rum is made using sugar cane juice or molasses. It has a sweet, crisp flavor with a touch of softness to it. If you are using an aged white rum or a dark rum, you will get notes of woodsy flavor like vanilla. I have used Bacardi rum from Puerto Rico for this recipe, but you can also use any other brand.
Simple syrup: You can easily make it and store it in the refrigerator. It is a simple concoction of sugar dissolved in water.
Fresh Lime Juice: Lime juice from fresh limes is a must! Adding lime juice to this classic Daiquiri cocktail means it will balance out the sweetness of the white rum and the sugar syrup making it tantalizingly fresh!
Fresh Strawberries – a must!
Lime Wheel: A lime wheel, slice of lime or lime wedge is the ideal garnish.
What tools you need to make Strawberry Daiquiri
You'll need a cocktail shaker or a blender for this one! Grab a jigger, a barspoon, a strainer, and cocktail glasses for this classic recipe. You can change the ratio as much as you like. I like a big bang of rum, so I use least 2 oz or 60ml. Sometimes I want it a little sweeter, so I add more sugar. It's really up to you!
It can also be served neat, on ice and frozen.
Step 1: Start by adding the strawberries, white rum, simple syrup, and lime juice into a cocktail shaker or blender.
Step 2: Add ice cubes to fill the shaker and seal the lid tightly.
Step 3: Start shaking the cocktail shaker for a few seconds or until the drink is chilled.
Step 4: Pour the cocktail by passing it through a strainer directly into your coupe glass.
Step 5: Garnish with a lime wheel. Bottom's up!
Disclaimer: Some of these posts contain affiliate links and as an Amazon Associate, I earn from qualifying purchases. That means that I may receive compensation if you click on these links and buy something, but, don't worry, it won't cost you a dime!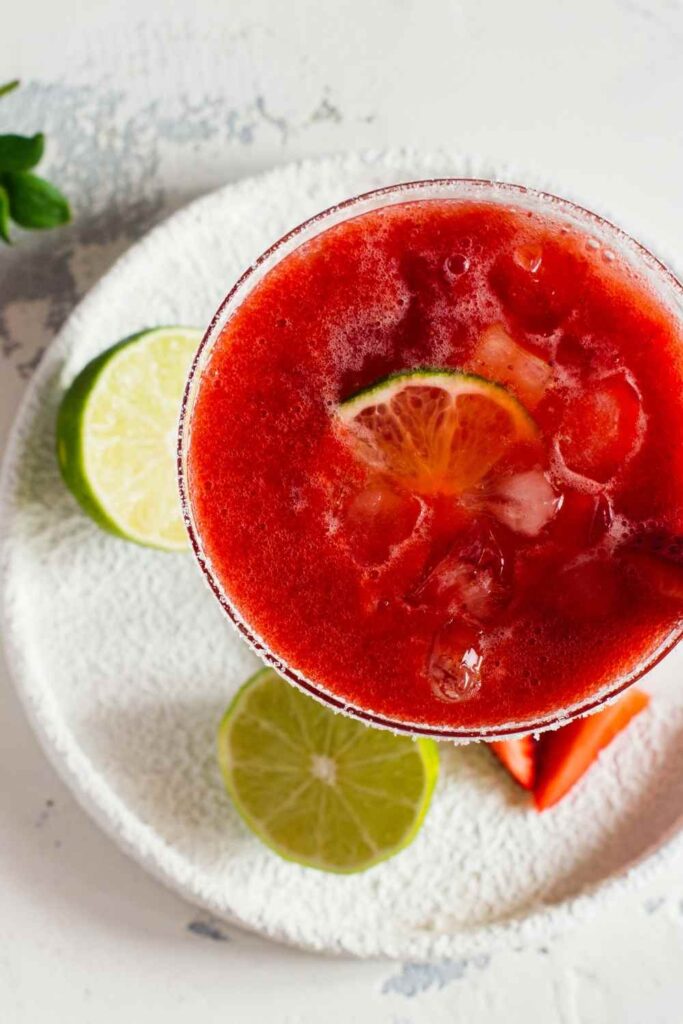 Where to find ingredients for the Strawberry Daiquiri
You can find all the ingredients at Spirits Kiosk (10% off the entire site by quoting this code: ALushLife10SK.) in the UK; or Drizly (Get $5 Off Your Order of $20+ using code ALUSHLIFE5) in the USA!
Where to find more classic rum recipes
Here are a few of my favorites:
Looking for more Daiquiri recipes? Try one of the following tasty cocktails:
Find a whole slew of rum cocktail recipes HERE!
Here is the recipe!!
Made with fresh strawberries, the Strawberry Daiquiri recipe is a winner. It's not too sweet and with a lime wheel as garnish is so refreshing!
Ingredients
1 1/2 oz rum
3/4 oz fresh lime juice
1 oz simple syrup
Large strawberries
Ice
Lime wheel
Instructions
Add the rum, simple syrup, lime juice and strawberries to a blender with ice
Blend until smooth
Pour into a margarita glass
Garnish with a lime wheel
Pin it for later
Love this recipe?
Follow me on Pinterest for loads of great recipes and much more!! Just click the little red pin button at the top of the recipe card!