William Faulkner rightly said, "There's no such thing as a bad whisky. Just, some whiskies happen to be better than others." These exquisitely crafted whiskies have eye-watering prices owing to their taste or quality, age, and the stunning decanters they come in. More of a collector's items these days, here's a list of the world's most expensive whisky and the ones that come close.
Most of these are single malt whiskies going for the highest prices at auction for the private collector or a collector's item designed by one of the world's famous artists. Some are just the oldest whiskey or a limited edition. Whatever the reason, they are on these list, it's because they go for the highest price on market whether Hong Kong, China, New York, or even Scotland!
Isabella's Islay Original
It's all about the bottle with this one. We have the Luxury Beverage Company of the United Kingdom to thank for one of the expensive bottles of whiskey, ever. There is almost no information about the whisky inside the bottle, but you can't miss this vessel.
The Single Malt cask strength whisky from Islay comes in English crystal decanter with a pure white gold coating and crafted with over 5,000 diamonds and almost 250 rubies. This is one of the most expenisce bottles in history.
The website says the whisky inside has " notes of fresh barley, the texture is delicate and plush, with grace and refinement, a whisky in the prime of life." I should hope so! For the price you pay for this single bottle of scotch, the whisky is available in refills.
Find more information on their website!
Macallan 1926
The Macallan distillery has a few bottles on this list. After maturing for 60 years in cask no. 263, an ex-sherry cask, came 40 bottles of the Macallan 1926, considered the finest, collectible single malt of the 20th century, the "holy grail" of whisky.
Twelve of these 40 bottles had their labels designed by the pop artist Sir Peter Blake, who famously designed The Beatles' cover for Sgt Pepper's Lonely Hearts Club Band. Another 12 bottles had labels designed by the Italian pop artist Valerio Adami.
Among the two bottles sold individually, one also has a hand-painted label by Michael Dillon, an Irish artist. As for the remaining 14, they were categorized within the Fine & Rare label.
It's pure liquid gold with hints of vanilla, peat, and smoke, spices from the wood, and full of dried fruits.
Find out more information here!
Hanyu Ichiro's Card Collection
An iconic and exclusive collection is sold only as a complete collection is Hanyu Ichiro's full card series. Hanyu distillery closed in 2000, making these bottles all the more rare.
Each of the 54 bottles of Japanese whisky in this collection represents a playing card in a deck (includes two joker cards). When the distillery closed, its founder's grandson preserved 400 casks of premium whisky, of which he chose 54 individual ones for each playing card.
With each one having a unique, luscious flavor, this Japanese whisky is irresistible.
Find out more information here!
The Intrepid
If you thought an 18-liter bottle of whisky was huge, you probably need to multiply that by more than 15-times, and that's precisely what The Intrepid is.
This Guinness World Records-certified bottle is the largest single bottle of scotch whisky in human history. At a whopping 5 feet, 11 inches (1.8m), this bottle holds 311 liters (roughly 444 bottles) of fine 32-year-old single malt scotch whisky distilled in 1989 at The Macallan Distillery in Speyside, Scotland.
The bottle's cover features the faces of 11 of the world's most pioneering explorers and is a dedication to the spirit of adventure and exploration. With a pale gold appearance, it tastes almost sweet, hinting at notes of apple.
Find out more information here!
Macallan 1988 Cask
The last Macallan on the list is this Imagine buying an entire cask of Macallan whisky and forgetting about it until being reminded 34 years later about its continuing existence! It's no joke; this did happen.
An expat purchased a cask filled in 1988 and held in bond at the Macallan Distillery. Three decades later, Macallan reminded the buyer that the cask was at their warehouse, still maturing. This old cask, of this size and quality, progressed into an extraordinary rarity.
The rare, 374-liter cask, purchased for a mere 4-figure sum three decades ago, sold for a 7-figure amount recently. With aroma notes of orange marmalade and salted caramel, the taste profile is a blend of rich spices and mature oak, progressing into hints of sweet orchard fruits and honeycomb.
Find out more information here!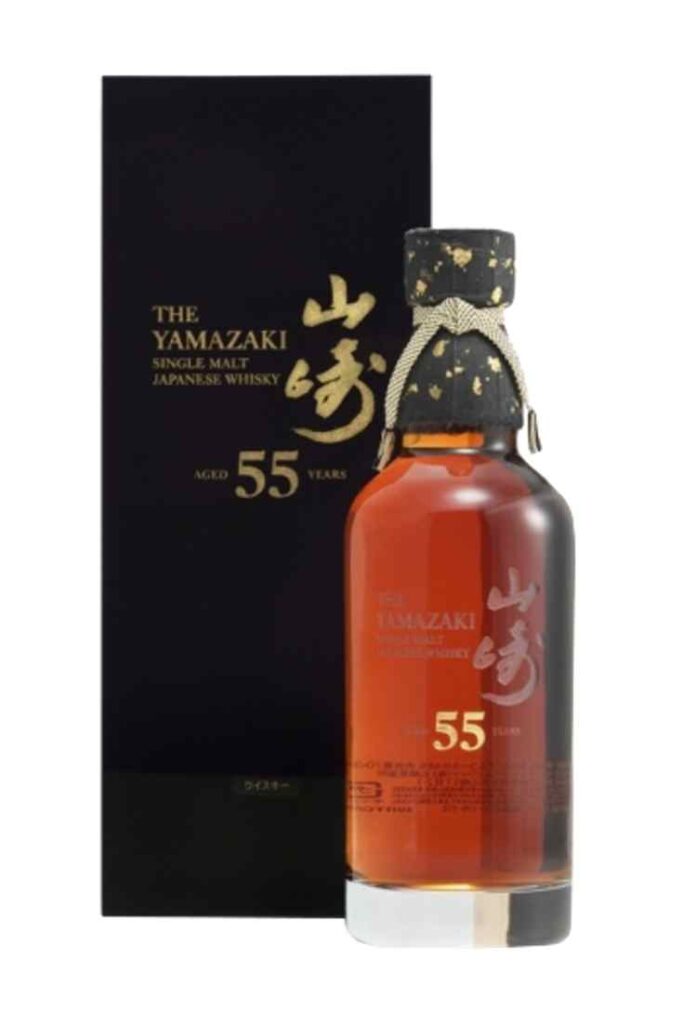 Yamazaki 55-Year Old Single Malt
A bottle inspired by Japanese culture and art, holding this 55-year-old whisky is all things traditional, rich, and rare; after all, it comes from Japan's oldest whisky-making company – Suntory.
This extraordinary whisky comes in an elegant bottle with engraved calligraphy. The whisky itself is a careful blend of three generations of distilling expertise, with whisky made in 1960 and aged in Mizunara casks and whisky in 1961 and 1964 in American white oak casks.
With a deep amber color, this whisky has the aromas of well-ripened fruit, hints of fresh-cut grass, and sandalwood. On the palate, it has subtle notes of scented wood, sweet and slightly bitter, and a smoky touch.
An ordinary tasting glass wouldn't suffice to experience its true flavors; a Burgundy glass is perfect.
Buy it here at Master of Malt
Dalmore Trinitas
The Dalmore Distillery founded in 1839 by Alexander Matheson has an exceptional 64 year old single malt whisky on this list. The Trinitas, a three-bottle release, is among the handful of whiskies released at the venerable age of 64 years. That's not all; the whisky contains spirits dating from 1868 and 1878 to 1926 and 1939.
With a long maturation process, each of the different wood contributed unique characteristics to the final liquid. Made of high-quality crystal, the decanter has intricately hand-crafted silver embellishments for an immaculate finish. Each bottle was presented in solid English oak boxes encased in Macassar ebony veneer.
The whisky has a fruity, nutty aroma, blending with rich Colombian coffee and white musk, sandalwood, and Indonesian patchouli aromas. On the palate, there are blends of sweet sultanas, apples, mangos, Seville oranges, figs, and dates, with lingering sensations of licorice, toffee, and roasted coffee.
None left!
There are either a rare whisky or something completely different:
The Macallan Lalique legacy collection (sold out!)
What Lush Life likes
Every single bottle of this fine whiskey on this list of the most expensive whisky is exclusive, unique, and a treasure on its own. Such prized whiskies are more of a collectible and seldom opened, adding to the appeal; they define a different class of luxury altogether and perfect to enjoy with your Cohiba Siglo VI!
Here are a few whisky cocktails to enjoy when reading this!