photos above by Savoredsips.com, Missinthekitchen.com, Boulderlocavore.com
Sangria, Lemonade, Gin & Tonic, even the British Pimm's Cup are a few of the easy and festive July 4th cocktails I love to serve on Independence day!
I've asked fellow cocktail bloggers to join me in raising a glass to the Red, White and Blue for 4th of July. Here is a great list for you to choose from!
My 4th of July Cocktail Recipes
Dad's Sangria
My Dad's Sangria can't be beat! I think it's the peaches, plus a whole lot of love!
Firecracker Daiquiri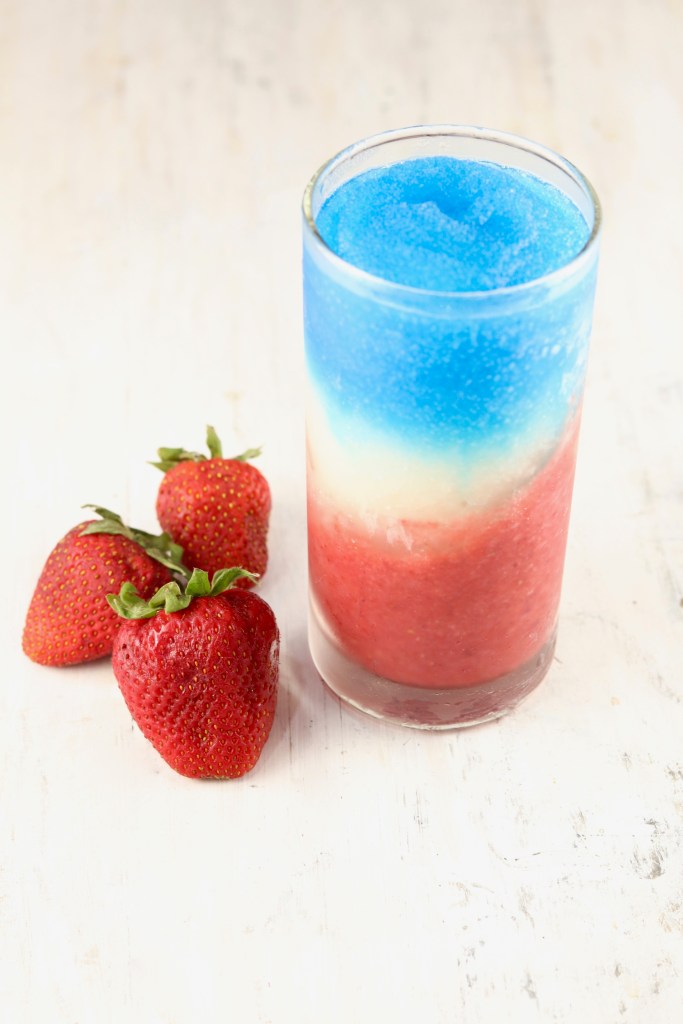 Firecracker Daiquiri is a layered frozen daiquiri perfect for summer holidays and celebrations. Serve up this red, white and blue rum cocktail for 4th of July parties or any patriotic celebration.
Spicy Margarita Recipe with a Cayenne Kick
I love a margarita on any holiday, but this one gives you a kick that starts off the fireworks!
Ciroc Watermelon Spritz
An easy cocktail recipe using the Cîroc Summer Watermelon vodka. Simple and summery, fresh and light – perfect for those picnics!
Frozen Red, White & Blue Lemonade
This frozen red, white & blue lemonade cocktail is the perfect addition to your 4th of July barbecue. It is a show stopper with its layered grenadine, vodka lemonade and blue curacao.
Gordon's Pink Gin & Tonic
An easy cocktail recipe that makes the Gin & Tonic a gorgeous pink color! Try Gordon's Pink Gin for the perfect summer cocktail.
Pimm's Cup
The quintessential British summer cocktail – toast to Wimbledon, Henley and revolution!
Blueberry Smash
This blueberry smash cocktail is made with fresh blueberries, lemon juice, jam, thyme and gin that is topped off with some ginger ale, making it a refreshing summer drink.
Firecracker Punch
Punch recipes make any occasion feel like a celebration. Firecracker Punch celebrates summer and Fourth of July with fruity flavors and a bang (from a secret ingredient)!
Blueberry Lemon Gin Rickey
A blueberry lemon gin rickey is perfect to serve for all of your summer occasions. Made with fresh blueberries, gin and lemon seltzer water, it's a light, refreshing drink that's delicious all summer long.
Strawberry and Blueberry Infused Water
This Strawberry and Blueberry Infused Water is the perfect Red, White and Blue mocktail for the 4th of July. It is very simple to make, and perfect to serve to kids and adults
Pink Flamingo Vodka Slush
A refreshing and flavorful slushy drink, perfect for parties and BBQs!
 
Bomb Pop Cocktails
If you are looking for the perfect summer or 4th of July cocktail….look no further! How cute are these cocktails? The mini bomb pop popsicle really takes it to a new level!!!
 Red, White, and Blue Jello Shots
Having a party? These fabulous red, white, and blue Jello shots are perfect for the 4th of July patriotic holiday gathering
Rose Sangria
This Rose Sangria is perfect for spending the afternoon with friends. Using raspberries and peaches, it's refreshing and not too sweet.
Have fun!
Disclaimer: Some of these posts contain affiliate links. I may receive compensation if you click on these links and buy something, but, don't worry, it won't cost you a dime!