Lucky those who visit Trentino, Italy! As a visitor to this northern Italian region, you should expect gorgeous vistas, Alpine hills and valleys, and stunning lakes and rivers. What you might not expect is how difficult it will be to choose what to drink in Trentino.
My Lush Guide to drinking in Trentino will help you navigate through a plethora of choices.
Trentodoc (Bollincine da Montagna or Mountain Bubbles)
Its grapes may be grown in Northern Italy, its cork might pop, and its liquid bubbly, but don't confuse Trentodoc with any other Italian sparkling wine. Trentodoc is and always has been made in the Méthode Traditionnelle – just like Champagne in France.
The second fermentation of this noble spirit occurs in the bottle, not a stainless steel vat, giving it much more depth of flavor. I particularly love that its nickname is Mountain Bubbles!
Giulio Ferrari (unrelated to Enzo, the car guru) made it his life's mission to convince the world that Trentino was the perfect place to cultivate grapes that would create a sparkling wine like champagne.
In 1902, he proved the naysayers wrong and produced his first 200 bottles. Now more than 100 years later, over forty producers are making Trentodoc from locally grown Chardonnay, Pinot Noir, Pinot Blanc and, sometimes Pinot Meunier grapes.
Gaining more and more popularity for its freshness and minerality, Trento wines were granted the DOC status in 1993. Now to be called Trentdoc, the producer must stick to strict regulations regarding production, grapes and techniques.
Where to drink Trentodoc in Trentino:
More or less, every place in Trentino that serves alcohol is going to have a bottle of Trentodoc in the fridge. Just ask for it by name or the exact producer if you know a specific one you wish to try.
Palazzo Roccabruna
To learn more about different producers and the specific wine they make, head to the Palazzo Roccabruna in the center of Trento. This Renaissance palazzo houses the headquarters of the Provincial Wine Promotion Board of Trentino and is open daily to visitors. There is a bar located on the ground floor where you can taste a variety of different wines made all over Trentino.
Mezzacorona Winery
You can visit the Mezzacorona winery, one of the largest producers of Trentodoc, to tour their extensive facility. We were lucky to have winemaker, Matteo Covazzi, guide us through the hs A bit more about what his exact job as a winemaker is can be found on my podcast.
Established in 1904, Mezzacorona is a cooperative with 1500 members. These 1500 members have vineyards that span about 3000 hectares and all the grapes they grow go into Mezzacorona's wines. Last year they produced over two and half million bottles.
Don't be confused when looking to buy – the Trentocdoc is sold under the brand name, Rotari. Mezzacorona sells a myriad of different wines, but we are talking Trentodoc right now!
BellaVeder
In 2003, Andrea's Luchetta's grandfather decided to build a winery and make wine from the grapes he produced, instead of selling them off. Since that time, the family has been making Trentodoc from 100% Chardonnay and wines from the other grapes they have on their eight hectares of vineyards.
I met Andrea at a gorgeous lunch at Locanda Camorz in the village of Mezzocorona, where his wines accompanied every course. Our first? You guessed it – Trentodoc!
Grappa
Oh, to be in Trentino if you are a grappa fan! Just the tiny town of Santa Massenza has five distilleries waiting to be visited. For those new to grappa, it's a clear spirit, usually a digestif drunk after dinner, distilled from the skin of grapes after they've been pressed.
In Trentino, this means that the majority of the grappa is being produced from the local grape varieties, Nosiola (white), Teroldego and Marzemino (reds). A few of the distilleries add local herbs and fruits to create flavored grappas, as well.
Where To Drink Grappa In Trentino:
Santa Massenza
Located about fifteen minutes outside of Trento, this tiny hamlet of Santa Massenza had as many as fifteen grappa distilleries before the 1950's. Then the largest Hydroelectric Power Plant in Europe was built right beneath the town. Nevertheless, Santa Massenza has retained its charm, since most of the plant is hidden underground, and five distilleries still remain.
We headed only to the Distilleria Francesco Poli to try almost all the different grappas they make. If you have the opportunity, visit all five in town.
Villa de Varda
In the tiny village of Mezzolombardo sits Villa de Varda Grappa Distillery, one of the most respected grappa producers in Italy. The family has been land owners in this area since 1678 and began distillation as long as they can remember.
They were one of the first grappa distilleries granted a license from the Italian government! The owner Michele Dolzan was on hand to talk us through their method of production with an emphasis on the fact that it is distilled six times!
Make sure you visit the small Grappa museum where they've kept almost every piece of equipment ever used in grappa production. Definitely make time to try, not only as many of their grappas you can, but also a few of the other spirits, especially the apple liqueur and their amaro.
Vino Santo
Don't confuse Trentino's Vino Santo with Tuscany's Vin Santo, it's an easy mistake as they are almost the same two words and mean the exact same thing – Holy Wine. Vin Santo in Tuscany is a sweet wine, made from grapes grown locally. Vino Santo, Trentino style, is also a sweet wine, but made primarily from Trentino's local Nosiolo grapes. The handpicked grapes are placed on grates and air-dried for up to six months.
When Botrytis Cinerea (noble rot – a harmless fungus which makes the grapes even sweeter) takes over, then wine is made and aged for over three years. Like Trentodoc, you can find this everywhere in the region, just ask! Most grappa distilleries make vino santo as well!
Hugo Cocktail
It's hard to beat the Aperol Spritz when concocting a cocktail that appeals to the crowds near and far, but I think Trentino has discovered it. The Hugo just needs a bit more press! Using locally grown elderflower, this summery blend of Prosecco (Trentodoc is not to be used in a cocktail) mint leaves, lime and the aforementioned elderflower, made into a syrup, is served at every bar.
You can while away many hours in Trento's main square sipping your Hugo, instead of the ubiquitous Aperol Spritz, for a change.
Apple Juice & Cider
The apples grown in the Val di Non region of Trentino are known far and wide as some of the best in the world. Even Tolstoy's mother ordered a large number of young apple trees from Trentino to be planted in her garden in Russia. Needless to say, the juice from these apples is made for drinking. Stop at one of the many, many orchards and their farm shops to sample the golden nectar of these tasty fruits – some even have cider! Our stop was the Azienda Agricola Calliari in Malosco!
Mead (Honey liquor)
Andrea Paternoster has to be one of the most charismatic people in all of Trentino. His enthusiasm for his subject is overwhelming and you can't help catch the bug when you are with him – that bug being the honey bee. A stop at Mieli Thun is not just a visit to a shop selling honey, but a total immersion in honey bee culture.
Not only will you learn that the best way to taste honey is in a wine glass, but, if you're lucky, you'll also be tasting his home-brewed mead, the alcohol made from fermenting honey with water.
Andrea never lets you forget you are in Trentino though. This is no ordinary mead he produces, but one made like the sparkly wines of Trentodoc, only using the wildflower honey he cultivates instead of grapes. He ferments it twice with different honeys – all in the bottle. It would be a waste to visit without bringing home a bottle of this unique bubbly.
Homemade syrups & cocktails
The dandelion, rose, gentian root, larch, elderflower and others, are not always your first choice of ingredients when making a cocktail. Maybe the rose and gentian root are a bit more common, depending on where you live, but the dandelion and larch would not usually be in your larder. Unless you live in Trentino!
It makes me happy to report that there is pretty much nothing that grows in wilds of Trentino that is not being used to create either a syrup to add to a cocktail or a grappa to make a liqueur, and I tried them all!
Rose Syrup
Nonna Ponomarenco at the agriturismo Maso Flonkeri in Bosentino, works magic with her rose petals to make the most glorious of syrups. She adds this to local white wine and you have a subtle accompaniment for your nettle gnocchi.
Dandelion Syrup
Yes, those dandelions that grow everywhere can be collected and made into a syrup that you can add to water, or anything you desire. It's a local treat that we had at local producer Lepretto Bisestile, just ten minutes walk from the Maso Flonkeri.
Larch Tree
On my trip to Trentino, I visited the Malga Di Caredo to milk a few cows and find out more about milk production. We got talking about grappa, as you do, and he revealed that he uses ingredients from all over the Malga (the Trentino word for cow farm) to make special grappas.
One of these was larch. He gathers up larch branches and lets them sit in grappa for a while and then he has a pine-ish flavored digestif. He also uses the Gentian Root that grows throughout his property, as well as, his own milk with honey to create other distinct grappas.
What to do in Trentino when you are not drinking
Every town in Italy delights and Trento does not disappoint. We should thank Martin Luther for making Trento so charming. His Ninety-Five Theses kickstarted the Reformation, which in turn prompted the Council of Trent (1545), which ultimately ushered in the Counter-Reformation.
With all the hotshots of the religious world heading in from far and wide, the town had a complete makeover, with each and every building being refurbished and frescoed anew. Luckily for all of us who visit Trento, this decoration has lasted for 500 years, making it one of the most charming towns in Northern Italy.
Duomo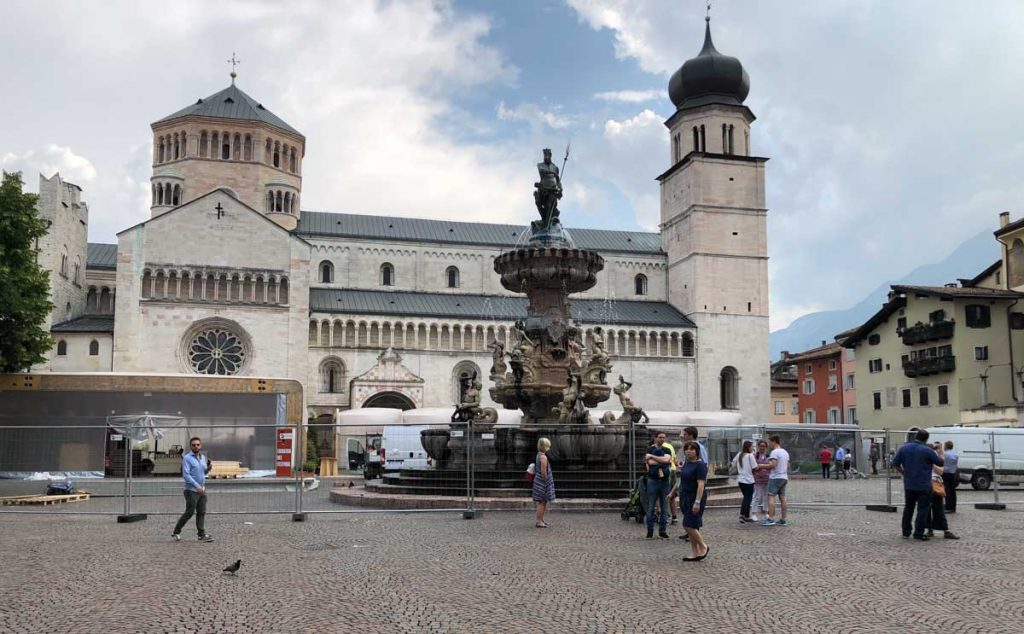 Step inside the Romanesque Duomo from the main square to see its two internal, stone staircases cut into each side of the cathedral. One runs up to the the town above, and one goes nowhere, as the tower that it should have joined was never built.
Buonconsiglio Castle
The Buonconsiglio Castle has one of the best views of Trento from its Venetian Loggia. Inside do not miss the Torre Aquila with its 14thC frescoes – The Cycle of the Months. The audio guide picks out the details you may miss as it describes each scene month by month. Its hard not to love a Renaissance snow ball fight. Somehow it makes you feel that the world has not changed, even in 600 years!
Get outdoors
The Alps, the Dolomites, whatever you want to call them – Trentino is surrounded by hills and valleys, lakes and rivers all pressuring you to get outdoors and be active! Hiking, climbing, rafting, kayaking – there is really no reason to stay indoors, even in winter. Cable cars abound as well – if you are not able to participate.
Enjoy a lovely picnic brought to you by La Strada della Mela at the Due Laghi and then walk a part of the Camino Jacopeo d'Anaunia, an Italian pilgrimage path, toward the Sanctuary of Saint Romedio, an amazing vertical structure of several churches and chapels all built on top of each other. If you're not too tired, climb to the top of the 131 stairs and stop in at every chapel on the way up (or down).
What to eat to complement your Trentodoc
Before visiting, I presumed that food in Trentino would be not Italian enough to be Italy and not Austrian enough to feel Austrian, but stuck in the middle somewhere. Still, who really cares if you're served Sacher Torte as a "dolce" and your knödels are masquerading as gnocchi? My favorite, risotto, pops up on every menu!
Trentingrana DOP
The Cheese equivalent of Trentodoc has to be Trentingrana. Similar in style to its more famous cousin, Grana Padana, Trentingrana is made from cow's milk – but these cows are eating grass from only Trentino pastures! We enjoyed it at Caseificio Sociale di Coredo, plus trying a few other local varieties, such as Nostrano and Casolét.
Tortiei
One of the local treats is the tortiei, or potato pancake, served with krotti (sauerkraut) radishes and charcuterie – a gentle nod to Sud-Tirolian cuisine right next door to Trentino. Il Falchetto is one of the places to best taste this and, yes, they serve Trentodoc.
Other Trento Restaurants
Al Duomo, Via Giuseppe Verdi, 77: Delicious pizza – if you must eat it outside of Naples (or the USA!), Al Duomo is also known for its inventive and creative dishes, such as its apple and gorgonzola risotto.
Ristorante Al Vò, Vicolo Vo, n. 11: This tiny place has some of the best local food in Trento. My pear risotto can testify and I am still dreaming about their creamy, chocolatey sacher torte for dessert.
Cherry Gelateria, Via Paolo Oss Mazzurana, 41: The most inventive gelateria in Trento. They offer Mint & Liquorice which was by far one of the best flavors I have tried. Their signature chocolate is like eating cake batter, which is always a good thing.
Where to sleep in Trentino
Trentino is full of splendid agriturismi and it would be a shame not to try one or two of them. Sometimes they have the best dining experiences. Be warned that outside of Trento, you probably won't find air conditioning. You are in the mountains, so nights can be quite cool. This means no closing your window, so there may be church bells ringing on the hour every hour in each town! Not a reason to miss out – just take earplugs!
Grand Hotel Trento, Piazza Dante, 20, Trento: The best rooms in town and a five minute walk from the Duomo.
Berry Hotel, Località Maso Del Giudice, 2, 38049 Altopiano della Vigolana, Vigolo Vattaro: One of the prettiest agriturismos in Trentino with a wonderful kitchen. Our breakfast was fit for champions. They serve their Trentodoc with a local raspberry!
Locanda Alpina, Piazza Municipio, 1, 38021 Brez: A perfect spot for settling in and exploring, but beware the duelling church bells! The Segna family welcomes you in as one of the family. I recommend you have at least one meal here. In the kitchen, Mrs. Segna stirs up polenta the way it should be made and their daughter has her own bakery. The attention to detail is sublime.
If you want someone to show you around, book these tours:
I was a guest of Visit Trentino and Traverse I cannot thank them enough for introducing me to Trentino and all her amazing spirit producers! What a fabulous trip.