Last year this time, I was sipping Pomadas in a cave overlooking the Mediterranean on Menorca. This year, it was the Aperol Spritz overlooking the Grand Canal in Venice. No matter how glorious that sounds, I get just as excited for the bars in London to update their menus with their summer-only concoctions.
Today, we're celebrating the second year anniversary of Lush Life Podcast by giving you one of my favorite posts of the year – the best summertime cocktails in London for 2018!
Cocktail Trading Company
I always have to begin with a cocktail from one of my favorite bars in the world – maybe because Andy Mil, one of its glorious owners, was my first guest! In this cocktail, they've combined Flor de Cana 7 rum, clarified lime, chestnut honey & sparkled Martini Rubino to be tantalising, complex and refreshing, all in one envelope!
Bluebird
I love this photo as much as I love this cocktail. Infused Rose Petal Botanist Islay gin, Maraschino and rhubarb liqueur, lemongrass cordial, fresh thyme, raspberries, rose aromatic, topped with rose sparkling wine, all served in coupe glass couldn't get more summery than this!
Aster Bar
I don't advise eating the carnation, everything else is drinkable. This English Garden is only one of several special summer cocktails on their menu, but I loved that they added Dill to Ketel One Vodka, Dry Vermouth, Lemon, and Elderflower Tonic to make this even more summery than it is.

Coin Laundry
A hit, especially during Negroni Week, you kind of want to put this cocktail in a cone and lick it. A creamier twist on the classic Negroni, this scrumptious drink is made up of Beefeater Gin, Campari, Dolin Dry Vermouth, Monin Strawberry Syrup, Strawberry Ice cream!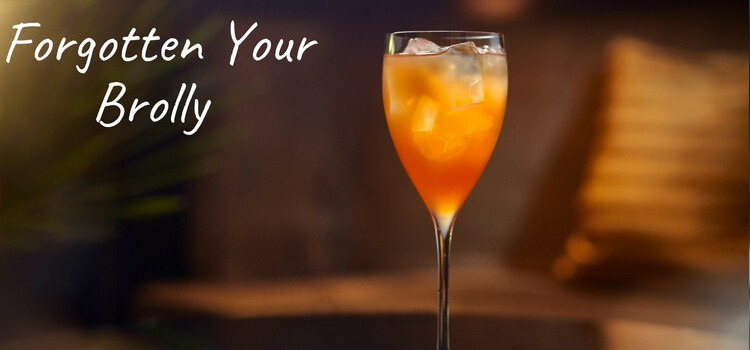 Knight's Bar at Simpson's in the Strand
Simpson's in the Strand is one of the most iconic restaurants in London and now their bar is equally up to snuff!  Their cocktail is a playful homage to London's unpredictable British weather. Blending D1 gin, Aperol, coffee tincture, cacao liquor with chocolate bitters, Simpson's sophisticated cocktail  has a tiny umbrella attached for those who frequently forget their brolly.
Skylight
Tobacco Dock's summery rooftop bar Skylight is open and ready to enjoy! We may not be in sunny Spain, but after a sip of The Skylight White Sangrita with its mix of Patron Silver and Reisling, Triple Sec, Yellow Chartreuse, Sugar Syrup, Reisling, Peach Purée, Peach Slices, Peach Bitters will transport you to the Med in one sip!
Vijay's Bar
Did you catch my Lush Life Podcast with Sandy Kaur & Mario Romano of Vijay's Bar revealing the lovelorn story of Vijay and his aristocrat lover Lady Charlotte of Fitzrovia? Well, listen in while you sip The Star of India cocktail, made from Fennel Seed and Cardamom infused Star of Bombay, Lemon Juice, Orange and Mango Marmalade, Crème de Cassis, Tonic Water. You can spend the rest of the night mulling over a love that was not to be.
Oslo Hackney
Last but not least, Oslo in Hackney has taken one of my favorite spirits Italicus Rosolio Di Bergamotto and combined it with Luxardo Bitter Bianco, Pear, Ginger and Yuzu Sherbet & Prosecco  – kind of similar to a Sgroppino and who doesn't like one of those!
Disclaimer: Some of these posts contain affiliate links. I may receive compensation if you click on these links and buy something, but, don't worry, it won't cost you a dime!