Disclaimer: Some of these posts contain affiliate links. I may receive compensation if you click on these links and buy something, but, don't worry, it won't cost you a dime!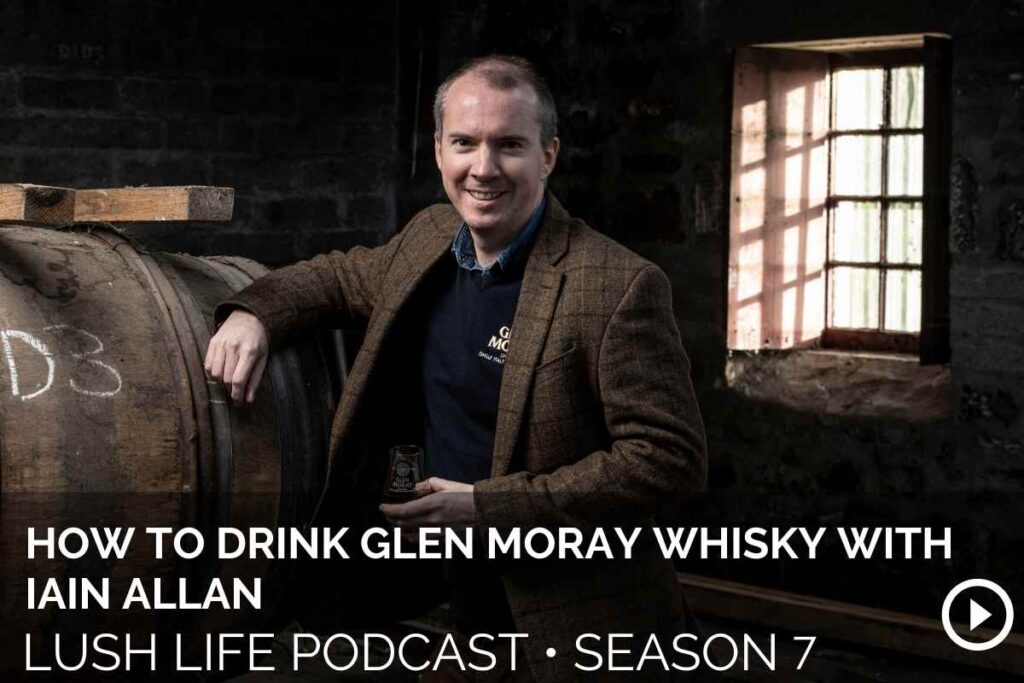 Behind the doors of Warehouse 1, up north in Scotland's Speyside, there is something brewing which we are all going to want to sample. Especially after you've heard it all from my guest today!
Here to reveal the wonders of not only in Warehouse 1 but also, the entire Glen Moray range is Iain Allan, Global Brand Ambassador and Visitor Center Manager for Glen Moray Distillery.
An Elgin local, who traveled all over the world, but chose to settle in his hometown due to all the wonderful whisky found on his doorstep, Iain's 18 year reign at the distillery has seen the whisky world grow and change! Today, we'll find it the hows and whys!
Watch it on YouTube
Cocktail of the Week: Elgin
Yield:

1
Glen Moray Elgin Gin Fizz
Our cocktail of the week is Glen Moray Elgin Fizz. Perfect for this time of the year, the whisky and ginger gives it the warmth and the sparking apple juice gives it the fizz!
Ingredients
50 ml Glen Moray Fired Oak
10 ml ginger liqueur (such as King's)
Sparkling apple juice
A cinnamon stick
Instructions
Fill a glass with ice.
Stir in the whisky and the ginger liqueur.
Top up with the sparkling apple juice.
Garnish with a cinnamon stick and a twist of orange.
Nutrition Information:
Yield:
1
Serving Size:
1
Amount Per Serving:
Calories:

238
Total Fat:

0g
Saturated Fat:

0g
Trans Fat:

0g
Unsaturated Fat:

0g
Cholesterol:

0mg
Sodium:

13mg
Carbohydrates:

46g
Fiber:

1g
Sugar:

37g
Protein:

0g
The information shown is an estimate provided by an online nutrition calculator. It should not be considered a substitute for a professional nutritionist's advice.
Please enjoy this transcript of my interview with Iain. Just remember that I own the copyright in and to all content in and transcripts of Lush Life podcast, with all rights reserved, as well as my right of publicity. So if you want to use any of this, please email me!
This transcript is sponsored by:
Susan: It's really great to have you on the show. I'm so excited to talk whisky and, in particular, Glen Moray with you. It's been too long. We were supposed to do this in the summer. I'm so glad that I could finally, finally have you on the program. Since then, I have sipped a lot of your whisky. Let's start talking about it. Why don't you introduce yourself to everyone?
Iain: Yeah, my name is Iain Allen. I am the Global Brand Ambassador and Visitor Center Manager for Glen Moray Distillery. Been doing that job, it's coming up to 18 years. No idea where that time's gone but given that the last few months have flown by, it's no surprise.
Susan: Yeah. It's crazy. Especially even these last three years. How did you end up these last 18 years? I hear a Scottish accent, so I assume there was whisky in your upbringing.
Iain: Yeah. I was born in the town Elgin where the distillery sits. This is my hometown. I moved away. I tried to escape, but it drags you back in for some reason. I went off to university in Aberdeen, came back to Speyside in 2001. Got a job at the Macallan Distillery, first of all, managing their visitor center. Then an opportunity came up a little bit closer to home. So, I took that opportunity, back in 2005 and have not looked back since.
Susan: Now, you said you went to University of Aberdeen. What were you studying there??
Iain: Absolutely nothing to do with whisky. I was studying law and management, although I spent more time in the bars in Aberdeen, probably that's where I got pulled into the drinks industry. I studied law and management focusing on EU law, which given Brexit, probably a good idea that I didn't go down that route.
I certainly had plans to spend more time in Europe. But being a Global Brand Ambassador, I got to do it and also spend time in bars. So life works out quite well, sometimes.
Susan: You were spending time in those bars while you were studying. What was it about the bars that drew you to hospitality?
Iain: Well, it was actually traveling around Europe. I took a summer, spent a bit of time in Europe and sitting in bars and seeing distilleries on the shelf that were so close to my hometown and thinking it doesn't matter where I go in the world, home keeps on sitting there talking to me.
So, that was a draw. But to be fair, whisky was always a love, always something I enjoyed. It really is, it's cliché, I know they say that if you do something you enjoy, you never work a day in your life. It's true. I love being a part of this industry, being around whisky, whisky people. Whisky people are nice people. It's great to be around these people and that just pulled me in, to be honest.
Susan: You said that you went all around the world. You were drinking whisky, was it something that you drank at home? Did your dad or mom drink whisky and was there a specific type that they preferred?
Iain: Yeah, my dad was a big whisky drinker, so that makes him sound like he's had a problem. But he loved it. There was always single malt whisky around the house. His favorite was Glen Deveron. Every year that was a nice, easy Christmas present for him. That was his tipple of choice.
There would always be a whisky glass lying around when you were too young to drink, you'd always shove your nose in it and pick it up and I think that just stuck with me. Even going out with friends, we would have a whisky before we went out to bars and to go out and enjoy ourselves. It always seemed to be around, it was always there or thereabouts, I think.
Susan: When you came back to Speyside and to the Macallan, what were you doing? You said you were you're heading up their whisky experience. what things were you doing there?
Iain: Whisky tourism, it wasn't brand new, but it was certainly in its infancy compared to what it is today. And creating experiences around brands was generally unheard of. Really the focus was just on getting people in, doing tours of distilleries. It was very decentralized.
The ownership of brand homes was very much within the distillery. There was always a conflict of interest there because you were working with distillery managers who had safety at the forefront of what they did. Then you were looking to take a busload of tourists who wanted to wander about and go touching hot pipes that they shouldn't have been touching.
That was how it was. We were trying to build this idea of an experience, creating different tours. We had just begun back in 2001; we developed this idea of more in depth tours. And back then, nobody was doing this – where you paid a bit of a premium to spend a little bit more time. You got different whiskies and that was the focus.
Back then, it was a hard sale. Now in whisky tourism, that's where the focus is. People want to be more educated, they want to be more informed, they want to be closer to the brand and understand more about it. Being at the forefront of that was fun, but very challenging. So that was what we were doing, trying to create this.
Susan: When you said 2001, all of a sudden it hit me. So you're there at Glen Moray for 18 years, this idea of an "experience" didn't even really exist. So in 2001, what was it? Must have been such whisky lovers who really knew about the brands to even want to go up and visit a distillery. You must have seen such a change in the tourist or the different tourists from then until now.
Iain: Absolutely. it's night and day, compared to what it was back then. You look at what is the surrounding landscape of whisky tourism with the development of the Johnny Walker Experience in Edinburgh and all these massive, massive brand investments. And that's where it has become a more centralized approach. It's part of the wider marketing perspective of a brand, that brand home experience. So yeah, absolutely different here.
Just if we're talking numbers, basic numbers. When I first started here, we had about three and a half thousand visitors, Pre-Covid 2019, we had 24,000 visitors. Just the sheer volume of people coming and doing whisky tourism now has changed massively over the years.
Susan: I can't even imagine in 2001! Someone ringing the doorbell like, ooh, I wonder if they'll even answer at the distillery. And then you open, you see a big door opening and being like, you want a tour? You want a sip? Sure, we'll make something up. Way back when.
Iain: Yeah, and it really was almost that, and the distillery had the freedom to create what it was. Now the fingerprints of the brand are all over it, and you can see the development of that. Which is good and bad. The good side of it is, there's a little bit more money to spend on development and creating, something a little bit shinier for the tourists.
We're lucky here that we keep a great level of authenticity here at Glen Moray, which I'm really proud of. It's warts and all. There's no smoke and mirrors applied. You get to see all aspects of Glen Moray when you come and see it. That's exciting. think that's an interesting part for the tourist.
Susan: Absolutely. Now, why did you decide to make the switch from the Macallan to Glen Moray?
Iain: It was an exciting opportunity, Macallan. It was very much focused on the visitor center, much bigger brand, bigger team. Your involvement or your ability to branch out and learn more about the industry was slightly hampered. There was always some fantastic career development there. Here, it was a smaller team, so you had to wear many, many hats and that's what's kept this job exciting over the last 18 years. No two days are the same.
Just a few weeks ago, I was doing a tour of the States doing a whisky festival in Las Vegas, which was super exciting and then next week I'll be here doing the annual year end stock, counting pens sold in the visitor center, and things like that. It's very much still hands on. It's very much involved. I get to work very closely with our marketing team which is a great bunch of people. It's just a little bit more freedom, to be involved in all aspects of the business.
Susan: Well, let's jump into the history of Glen Moray. How did it start?
Iain: So this year we celebrated our 125th anniversary. Back in October this year, the distillery was 125. I haven't been there that long! It's just a small part of this history, but it started off as a brewery. The distillery wasn't purpose built as a distillery, so a lot of what we had was squeezed into places that weren't designed for stills and, so it makes it slightly quirky.
Over the years, it's growing and it's developed. A lot of the change in the history of Glen Moray has been in the recent history. Back in 2008, the business was sold by LVMH, Louis Vuitton Moët Hennessey, to another company, La Martiniquaise.
They've invested hugely in the brand, in the distillery, and the production and the people. We've expanded numbers here at the distillery, as a headcount of people working here. We've expanded production. When I started back in 2005, we produced 2 million litres. We now produce 6 million, but next year will be at 8.5.
We're about to undergo a further expansion. We exported to 12 markets around the world. We now export to 80 markets around the world. We used to have just the three expressions; we now have up to 20 expressions, including limited editions. The recent history is where a lot of change has taken place here.
Prior to that, it was a workhorse distillery. It was very steady production, producing a lot for blending, but there was always that single malt aspect. Now we do both, the single malt has taken a greater level of focus now within the distillery, which is fun, which is an exciting thing to have around the distillery.
Susan: When it was, as you said, a workhorse for blending, was it blending its own or was it selling it out to and for others to blend?
Iain: Both. So we would've been a key component in company blends. At the time, one of the most famous ones would've been Bailie Nicol Jarvie BNJ. I actually don't think that blend is around anymore. It's been moth build for the time being, but it was quite a famous blend at the time. The rest, it would've been used for a lot of reciprocal deals swapping out to get other single malts so that we could blend with it and other companies could blend with Glen Moray.
Susan: Was there just one age of the single malt that they produced, or was it an eight year, 12 year, 25 year, that kind of thing?
Iain: So it was mainly the three expressions for a long part of the production of Glen Moray. It was an 8 year old, it was a 12 year old, and a 16 year old. We have developed that range. We've created a collection of non-age statement whiskies. Then we have our age range collection, which is a 12, a 15, and 18, and a 21.
We've expanded the range of ages, plus added additional non-age statements, and then we've got a proliferation of limited-edition, special releases that we do on top of those.
Susan: When was the decision to start to, I don't want to say be more creative, but decide to create these limited editions, these expressions? Was it when the French company bought it?
Iain: Yeah, a little bit. Prior to that, the distillery was being used as a little bit of a laboratory. For the previous owners, they were testing things out. They were putting stuff into weird and wonderful casks just to see what would happen and see how it would work but the brand wasn't developed enough that it could bring these out.
To be fair, the market probably wasn't ready for all these weird and wacky casks. We did a Chardonnay cask back in the 1990s which was beautiful.
Susan: Oh boy.
Iain: But it really wasn't well received because I don't think people understood it, or the market really wasn't ready for that style and approach.
So we were sitting on these casks. The brand became a little bit more developed. It became a little bit more expansive in its reach around the world. So we could bring out these larger limited-edition releases and spread it around a little bit further. We were tapping into what was there and all we've done is really built on that legacy of experimentation.
But now the world gets to see it. We've just not locked it away in warehouses to forget about it anymore.
Susan: I can't believe you said 1990. I mean, when you think of what people were drinking in 1990, it was like the Cosmo, the Fuzzy Navel, the Midori Sour. And here you are bringing this wonderful chardonnay cask whisky to an audience that was drinking chardonnay in the nineties. That was so forward thinking, really.
Iain: It was and, at the time, it was chardonnay finished. So even that term finishing wasn't created in the lexicon of scotch whisky. We called it "wine mellowed" at the time. So, we were at the forefront of something which has become a kind of key part of single malt whisky going forward.
Susan: Absolutely. Do you have any of that liquid left?
Iain: Yes, little bits and pieces of it still sitting in warehouse. We're not at the volume of that length of maturation to allow us to do big, big releases, but we do the odd single cask full maturation in chardonnay now, that we bring out as a part of that era, part of that period of experimentation. So that's fun to do.
Susan: I'm sure. And since you've been there that long, you've seen all of these experiments and been part of them. What have been highlights of them, or you don't have to go through every single one of them, but what have been the real highlights? Like the first maybe that you were like, oh yeah, yeah, this is going to work. And then some others, that you've loved.
Iain: Two that bookend my time here that I absolutely love, one of the first releases that we did back in 2005 when I joined was something called Mountain Oak Final Release, which was just a phenomenal whisky. It was a whisky which was matured in air seasoned what is now called designer casks. Back then, we called it Mountain Oak. Cask air seasoning takes two years to prepare the wood, so that it can be crafted into an actual cask itself.
Susan: What does air seasoning mean?
Iain: So you just allow the wood to season itself. It's not forced, seasoned in an oven to dry it out, to get the right moisture content to create the staves that you're doing to produce the casks themselves. So, it's a more natural approach. It's a longer term approach, and the casks themselves didn't have anything in them.
There were virgin wood casks and we had left the spirit maturing for about 15 years and it created such a beautiful whisky. It was stunning. One we did last year, which was a Barolo cask finish, finished in Italian red wine casks, which was absolutely stunning. It was one when I first arrived and one that we just did last year, which, was fantastic liquid.
Susan: The Barolo one, is it really wet with Barolo? Is it just like they've literally just taken the wine out and they send it to you? How much of that is still in the cask when you put the whisky in?
Iain: We generally get them with transport liquids. There's a few liters in the cask to keep it wet. They need to retain a level of moisture so that they can maintain solidity so that they don't collapse. If they dry out, the wood shrinks and the staves collapse because there's no screws or clue or nails used.
You need the moisture to expand the wood and keep them watertight from the inside out. For that reason, but also it keeps it fresh. It keeps a certain level of activity and the flavor profile as well. We have to tip that out legally we can't leave that in, because that would be classed as an additional ingredient and within the guidance of producing single malt whisky that we can't have that. We tip it out just before we fill it so there is that level of freshness of the Barolo within the cask when we get it.
Susan: And you toast to your new cask with the Barolo wine!
Iain: It gets down the drain. I hate to tell you. All goes down the drain.
Susan: No. I'm only teasing you. Is that considered part of the warehouse collection and the warehouse series?
Iain: That was part of last year's releases. We typically, or we have recently done three releases every year. Last year we, the first one was a Tokaji finish.
Susan: Since when?
Iain: Well, last year was the first year that we introduced The Warehouse 1, but it followed off the back of something we had called the Curiosity Series.
We've tweaked the Curiosity ranges, moved to one side, and allowed Warehouse 1 to come through. They're both the same similar concept. They're about experimentation, the terminology we felt with Curiosity. We were painting ourselves into a little bit of a corner. there's only so much that you can find that is curious to the whisky drinker.
We were starting to pull things out. They were curious to Glen Moray, but on the wider whisky category, people had seen them before, but for us they were a little bit different. So, we changed it to Warehouse 1, which is the warehouse where we keep these curiosities, we keep these experimentations.
I always say to people, if you come to the Glen Moray Distillery, it's Warehouse 1 where we take you on the tour. So these curiosities are not secrets. They're not hidden. You can have a wander about, you can look through the warehouses, you can see them sitting there. and if you see them come out, they're successful.
The ones that are not successful, they get pushed further. In fact, further back to the warehouse. So we changed it to Warehouse 1. It gave us a little bit more freedom with the types of cask that we could bring out. We also changed it from 46% ABV to Cask Strength, which for me was a great decision.
Warehouse 1 has been completely Cask Strength additions since last year. Warehouse 1 has only been around since 2021. The three releases we did last year were a Tokaji cask, which is a Hungarian dessert wine. then we did the Barolo cask, which came out in November last year, October last year, sorry.
Then in November we took out a Manzanilla, which was a sherry cask, slightly different from the traditional Oloroso that you would normally find with a sherry cask. This year, we have released, the Oloroso full maturation. We've not done a full maturation sherry in a number of years, so it was nice to bring back something that wasn't just a finish.
Finishes are great, but this was giving the cask to put a real stamp of flavor into the product. We have an amontillado, which follows the theme from last year's Manzanilla, so a slightly different quirky sherry cask. We have the Amarone as well, which again just follows that theme of an Italian red wine cask.
Susan: Let's talk about the Tokaji for a second, because that is such a sweet wine. It's so delicious. One of my favorites. How did that affect the taste of the whisky?
Iain: As you would expect, it brought a lot of sweetness to the table. It brought a lovely orangey note to it. Fresh, satsuma orange flavor too, which was lovely. It was brought out in the summertime and it was just a great summer release. So it was a lovely, lovely whisky which sold out amazingly quickly.
Fortunately, we have more Tokaji casks sitting in the warehouse. Interesting thing. It was only a year finished, so it'd only been in there for one year. The ones we have are going to be in there for much, much longer. It'll be interesting to see how they develop, because for us, we don't know. We haven't been in there that long. So we just need to see how it works out and how it develops.
Susan: Have you been tasting it along the way?
Iain: Not recently, no. We'll have to go back and check and see how they're coming along.
Susan: Oh, I'm so interested in that.
Iain: We did one really old one which we sampled. I was doing a tasting out in Berlin for BCB this year. We sampled a really old one. When we get casks that we're experimental with, we put some old stock to finish and we put some middle-aged stock to finish and then we put some younger, just so we can see how it reacts with the different ages. I drew a sample of some 34-year-old, that was finishing in Tokaji, which is absolutely stunning, beautiful whisky.
Susan: Oh my gosh, it must be so great. Now, behind me, I have a bottle of the Eglin Classic, which I was lucky enough to get at an Old Fashioned evening.
Iain: The Elgin Classics, one of our non-age statements. This is something again, we've carved a niche out for ourselves. Well, no, not a niche because a lot of people are doing it now, but we were kind of one of the first distilleries to bring a non-age statement into your core range. so it's a mixture of ages.
The average is about six. So we've got some younger and some older stock that we bring into the mix on that one. It just creates such a wonderfully easy drinking, accessible whisky, and I mean accessible from a flavor perspective, but also from a price point. It's a whisky you can pick up in your supermarket for a wonderfully cheap price and get great quality dram for it as well.
I just came back from the World Whisky Awards in Edinburgh where that Eglin Classic picked up a gold winner for the best Speyside, non-age statement whisky. So that was a nice evening to spend away.
Susan: Congratulations. And this wasn't a setup by the way. Everyone who's listening. I did not set that up. I didn't know. Perfect. Congratulations. That's great. Now, since you brought up sipping, and as I said, I did taste it first in an Old Fashioned class, when you create both the blended and these special whiskies.
I have a feeling I know what you're going to say but is there a way that you see it being drunk or can anyone drink it anyway, but the ones for cocktails or the Warehouse collection. How do you prefer or not prefer them being drunk?
Iain: They have to from the outset be whiskies that you can sip. That has to be at the forefront of your mind. If you're creating something which you suddenly tell everybody that it must go in a cocktail, alarm bells start to ring to me that actually is it not good to drink on its own.
So that's always a worry. But if you start off with a great cocktail, a great whisky, it will make a great cocktail. I was told by a mixologist once that, like any good chef, if the ingredients are good, then the meal is easier to make. You start with the best ingredients and you can be as playful with it as you want from.
Susan: Oh, that's great. Now are you allowed to tell what you're planning for the future for the next Warehouses or is it secret?
Iain: It's a little bit of a secret because we've not finalized what's coming out yet. Steven, who's our Head of Whisky Creation, we sat down and we created a five year plan, a couple years ago, and Steven then takes it from there. A lot of it is initially done on spreadsheet, looking at what casks we've got, looking what we can do first and foremost, because there's no point in coming out with great ideas and not actually having the tasks there to release.
That's the first thing you do. Then it comes down to Steven to draw the cask samples and then decide whether two years ago we made the right decision because who knows how they've matured and he'll make the final call and he may shuffle around. What we'd scheduled for 2024 is maybe ready now and what we scheduled for 2023 is needing another year.
That final decision has to be made off the back of taking a sample out the cask, putting your nose into the glass, and deciding if it's good to go. So we've not got to that stage yet. Steven will be working on that pretty hard, probably early part next year. The call will be made and we'll take it from there.
Susan: When do you announce it to the world? Do you always have the same date?
Iain: Well, this year, sadly not. We do try and have the same release date, but this year, as you'll hear from anybody in the drinks industry, the supply chain has been challenging, so shall we'll use the word challenging. So getting a hold of glass, getting a hold of labels, getting a hold of cartons.
That absolutely messed up with our plans completely. So we normally released them throughout the year. This year we had to wait and was released as a set of three, and we only just got them out about two or three weeks ago. It's been a bit of a slightly disrupted year, through no fault of our own. We sometimes make mistakes, but this time just the supply chain cause this issues.
Susan: It'll just make people want it more. That's the excitement. It's like when the new Harry Potter book was going to come out, no one really knew, and so it made it even more exciting.
Now, I'd love to just chat a little bit about your role as Brand Ambassador and going around the world and introducing Glen Moray to whisky lovers or just cocktail lovers around the world. What has been maybe your surprises or someplace where you felt, oh, they didn't know us and now they know us really well. I'd love to hear some of your stories.
Iain: Yeah, that's a part of job I absolutely love. And what's not to love. Getting paid to travel around the world and go to fantastic bars and share whisky and stories with people. It's a pleasure and a privilege to be able to do it. The last two years that hasn't been possible.
We've used platforms like this, like Zoom and Teams, which has been great to allow us to continue to be connected. But this year, I went to our brands team and said, look put me down for anything because the last two years we've done nothing. In the beginning of the year that sounded amazing, but getting to the end of the year, slightly tired.
So pleased to say the last trip was last weekend in Frankfurt. We did InterWhisky, which was my first ever international whisky festival which I've always had a soft spot for. This year's just been full-on, we did a tour of the states. We went from west to east.
So, covering loads of places. What's been fun? Places that have surprised, places that I wouldn't have otherwise had down as holiday destinations. I went to Israel to do a bit of work for Glen Moray, and that was fantastic. That was absolutely eye-openingly fantastic to do.
We did a launch in the Dominican Republic, which again, a lot of people going to the Dominican Republic would just go to resorts and not see out and about and into Santa Domingo getting to see these places. You spend time with your importers, so they know where to go and where to take you. It's almost like having a fully paid up tour guide when you go to these places. Everywhere, from Australia was fantastic. just before Covid, I got to see Russia and I hope to God that we get to see Russia again sometimes soon because wonderful people and great country who loved our whisky. I've seen Moscow and St. Petersburg. It was a great place to be just before everything kicked off there.
So, you get to do things and go to places that you maybe otherwise wouldn't do. But I get to go to places that I would want to do. I just came back from San Francisco and Las Vegas, which was absolutely phenomenal. It's a privilege to do it.
Susan: I was wondering if you have any stories where it just surprised you how someone somewhere drank Glen Moray, that you never thought of or you were able to introduce them to something that they would've never tasted before.
Iain: I've never seen anybody doing anything with our whisky that surprised me.
Susan: Maybe that's a good.
Iain: Yeah, I'm not sure. We've been experimental with cocktails here in the UK, in recent years. A lot of people trying it out in cocktails, which is always fun to see. Remember if you tried that when I first started in this industry 21 years ago, you'd got kicked out Scotland.
But the people are quite happy to experiment and play around with cocktails now. So we've seen a lot of that. People drink it straight, people drink it over ice and they approach changes. It depends on your climate. I used to never put ice in my whisky, but when you're in places like the Dominican Republic, it's a slightly different climate than it is in the frozen north of Scotland. Having a little drop of ice in, it's not a bad thing.
Susan: A whiskey slushy.
Iain: Yeah, absolutely. Not seeing anybody doing too crazy with it. What I would say is, I know our sales guys probably don't think this, but we are new to a lot of these markets, so a lot of these markets don't know us. You go out there and people don't have a preconception.
That's fun to do. That's why I like to see to go out and to introduce people to Glen Moray. We tend to surprise them, which is always fun in a good way.
Susan: Of course, of course. Now, maybe that leads us right directly into my question that I always ask, which is the top tip for the home bartender, or maybe this time it should be the top tip for the whisky home drinker, the home whisky drinker, something like that.
Iain: I've never worked in a bar, well briefly when I was 18. So my abilities to make cocktails are between slim and zero. So, 'm not going to give anybody any cocktail making tips because that could go horribly wrong. As a long drink, the one that did surprise me. Just a very simple mix, which I've done since I was introduced to it, was the Proper G and T, which is a Glen Moray and Tonic.
As a long drink with some tonic and some ice in the summertime, particularly that bottle you've got over your shoulder there. (Elgin Classic) It just works wonderfully well. I always just thought tonic was made only for gin. But no, it works really good with whisky as well.
When it comes to enjoying it as a single malt, find what suits. Play around with it. If you want to try it with ice, don't let anybody tell you how to enjoy your whisky. It's your taste buds. It's your palate. You'll hear people saying, don't put water in it. Don't put ice in it. Don't do this. Don't listen to those people.
Try it with a bit of water. Try it straight. Try it with ice. Find what suits your pallet. It's there to be enjoyed. And if you like it that way, don't have anybody come and tell you you're doing it wrong.
Susan: And if someone is new to Glen Moray, what do you think? There is one in particular that is the entry level whisky that everyone needs to try. First of your range.
Iain: Well, the one you have behind your shoulder, again, the classic is our entry level one. From a price point and flavor perspective, I like to introduce people to the 12. I think the 12 is our flagship single malt, is our oldest whisky, not in the sense of the age in the cask, in the sense that we've had the 12 year old since the 1960s.
And if you can get a bottle out of an auction site from 60's, 70's, 80's, 90's, you'll find that, that it's relatively similar. It have changed slightly, but not massively. And it's held its form and style for many, many years. That to me is our flagship. It shows a great expression of Glen Moray, but also, it's a great expression of where we are in Speyside.
Speyside is a famous whisky making region, famous for producing a whisky which has a lovely, sweet, spice balance. Our 12 year old is just the epitome of that. It just encompasses what Speyside's about, as well as what Glen Moray's about.
Susan: I'm so glad you brought up Speyside. I'm sorry, I jumped over that and, but it's nice that you said what exactly Speyside is. Do you have anything else to add to that about Speyside?
Iain: It's a mecca for whisky fans. There's more whisky distilleries here than any other part of Scotland. You have some of the biggest single malt brands, just within, stone's throw where we are at. Glen Moray should be a mecca in its own right.
It's where I was born and brought up. So I've got a love for this area and region. It's on the Moray Coast, so if you like a bit of beachline, if you want to go and see some dolphins, if you like a bit of golfing.
We have some amazing golf courses, some fantastic restaurants in the local area, with a Copper Dog with Orrin Restaurant in Elgin with The Drouthy Cobbler and the Bootleggers. Bothy on the coast where you can, if you're lucky, see some dolphins while you enjoy some wonderful seafood. So it's just such a great region, that I know everybody claims to be Scotland in miniature, but I think, Speyside most definitely has that claim as well.
Susan: Now I'm going to ask my last question, which I have a feeling I know the answer for this right now after just you describing Speyside, but if you could be anywhere drinking anything right now, what would it be and where would it be? Already, mine would be today having a dram of Glen Moray at In Speyside at your whisky experience after that description. But it's all about you.
Iain: Yeah, so we have just opened our new, when I say just opened, we opened it back the start of this year. We worked on it during lockdown. We had our new Glen Moray House Experience. So we took an old house on site and we converted into a place where you can have private tasting. One of them has a wood burning fire, which you can sit beside and have a dram there. That would be one of the places.
But given it's actually minus six today, I wouldn't mind being somewhere where it's sunny and enjoying a dram with friends with a bit of sunshine. So, either of those are good options, but having to go out into the cold, the sunshine is very tempting.
Susan: Yeah, maybe back in the Dominican Republic.
Iain: Yeah, I'm not going to, say no to that right now.
Susan: Well, listen, thank you so much, Iain, for being on the show. I'm sorry it's taken so long for us to get together. It was really great having you, and it was so great to hear about Glen Moray.
Iain: It was a pleasure.
Don't miss out on any Lush Life episodes!
You can get this and all future audio files automatically downloaded to your mobile device easy. If you're on iOS, you can listen on Apple Podcast. It's easy to Google Podcasts or Spotify too. Or click the player or link above to listen to just this episode. (But trust me, you'll want to subscribe!)
If you live for Lush Life would you consider supporting us… Just go to patreon.com/lushlife and you can donate once or monthly to make sure we are still here every Tuesday.
Lush Life Merchandise is here – we're talking t-shirts, mugs, iphone covers, duvet covers, ipad covers and more covers for everything! and more!
Theme music for Lush Life is by Steven Shapiro, and used with permission.
Lush Life is always and will be forever produced by Evo Terra and Simpler Media Productions.